---
PROUDLY SOURCED FROM INDIA
**We Have Limited Lush Brush™ Left At This Special Introductory Price**
BUY BEFORE THE PRICE DOUBLES!
WHAT IS LUSH BRUSH?
Lush Brush is a Multifunctional Rotating Hot Air Brush which is the perfect combination of a hair dryer and rotating brush. Now get 2-in-1 for blow-drying and styling hair, making it seamless to create volume to your hair, while giving it a smooth, silky and natural lustrous look.
BENEFITS:
COMPACT: 2 in 1 Blow Dryer + Hair Brush. Volumize & Style Your Hair At The SAME TIME.
HASSLE FREE: Get Ready In 80% LESS TIME! No More Hassle In The Mornings!
REDUCE FRIZZ & STATIC: Get Healthier, Shinier & FRIZZ FREE Hair! No More Flyaways & Damage To Your Hair.
SALON AT HOME: Achieve Salon-Quality Hairstyles. Gives You Smooth, Soft and Silky Hair. 
TEMP CONTROL: Easily switch from Cool, Low & High Settings With A Turn Dial. NO Accidental Switching Anymore! 
DURABLE: Use On WET or DRY Hair! Lush Brush Is Built To Last! Satisfaction Guaranteed!
CURL OR STRAIGHTEN: Style Your Hair Depending On Your Mood! Our One Step Hair Dryer Can Be Used As A Curler Or Straightener Depending On How You Want To Use It. Feel Free To Switch Up Your Hairstyle Every Now And Then!
PORTABLE: Easy To Use, Lightweight & Portable! A Must-Have For Travel!
QUALITY GUARANTEE: We pride ourselves in sharing Lush Brush with you and our whole team stands behind the product. We offer a no-questions asked, 07-day money-back guarantee!
Negative ions saturate the air flow, helps condition your hair and nourish damaged hair, reducing frizz and static. Ionized airflow also ensures faster drying with less time and damage, making hair smooth and shinier.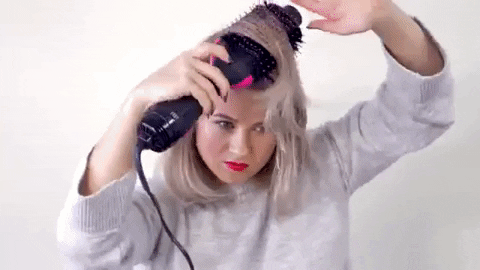 3-speed wind-driven multiple heat settings from COOL, LOW, HIGH for all hair types. High heat for thick hair, low heat for fine hair. Rotary switch, simple operation for you to choose the right setting.
No more hassling around for a blow dryer and a hair brush. Now you have one tool - perfect for travelling and storing away.
1000W power provides the right heat for drying and styling. Unique air flow vent ensures a better air & heat coverage, while the Nylon Pin & Tufted Bristles smoothly detangles hair knotting and helps relax head scalp.
REAL RESULTS
FAQ
Q. Does this brush reduce frizz & static?
A. Yes! Lush Brush reduces frizz and static to your hair. Let us explain how. (Other companies won't tell you this)
By using Ionic Technology, Negative Ions help maintain a neutral charge on the hair's surface leaving your hair looking conditioned and smooth, while helping reduce frizz and static. This also results in giving you healthy, shiny hair.
Q. Is this brush safe to use? Will it burn my hair?
A. Lush Brush is safe to use, and will not burn your hair! In fact, it is much safer to use than traditional blowdryers.
Lush Brush reduces the time your hair is exposed to heat, resulting in less styling time and less damage. Lush Brush is also Ceramic Coated, which helps protect hair from over-styling with even heat distribution which penetrates hair quickly and dries from the inside out.
Q. I have short and thick hair. Will this still work for me?
A. Absolutely! Lush Brush is a simple replacement for the traditional method of blowdrying and styling your hair. Whether you have long hair or short, Lush Brush will work for you. 
Q. How long would it take to ship & arrive?
A. We process all our orders within 24 hours and our estimated delivery times are 5-7 business days.
Precautions -
1) Please don't let the water get inside this Brush. 
BEWARE OF FAKE / DUPLICATE PRODUCT SOLD ON OTHER PLATFORMS
Note : We are taking all precautionary measures to fight the COVID-19 battle. We advise & request all our customer to pay online for a No-Contact and faster delivery. #WeAreInThisTogether #IndiaFightsAgainstCORONA
*All Prices are inclusive of taxes.
This section doesn't currently include any content. Add content to this section using the sidebar.